Chronological Daily Bible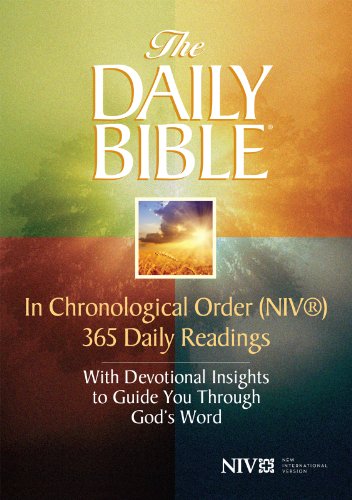 Welcome to the Daily Bible Reading resources page. As a congregation, we are reading through the Daily Bible in Chronological Order in 2017. To help facilitate our readings and enhance learning and discussion, we are making available materials that will aid us in our readings.
PDFs of 1 page forms available with questions that help us focus on the text and the lessons learned:
For a Form that you can download to your computer, copy, and fill out by typing answers, click here.
For a Form that you can download, print, and hand write answers, click here.
Charts and Handouts
Major Periods in the Old Testament
Thoughts on David's Background: Questions from the Readings
The Theological Importance of the Promised Land
Strange Alliances (Ahab and Jehoshaphat)
Major Powers Facing Israel and Judah
Helpful Links and Resources
Bible Genealogies: articles and resources for people in the Bible (by Luke Moyer)
Weekly Summaries (note: while we are trying stay close to the CDB, due to the sequencing, sometimes we will simply be overviewing whole books, and so may not match exactly with the reading.)
Summary 1 (Gen. 1-19)
Summary 2 (Gen. 20-33)
Summary 3 (Gen. 34-50)
Summary 4 (Ex. 1-24)
Summary 5 (Ex. 25-40; Lev. 8-10; Num. 3, 7-8)
Summary 6 (Numbers)
Summary 7 (Leviticus)
Summary 8 (Deuteronomy I)
Summary 9 (Deuteronomy II)
Summary 10 (Joshua and Conquest)
Summary 11 (Division of Land -- Joshua)
Summary 12 (Judges and Ruth)
Summary 13 (Samuel and Saul)
Summary 14 (David)
Summary 15 (Temple Preparations)
Summary 16 (Biblical Poetry)
Summary 17 (The Psalms)
Summary 18 (Varieties of Psalms)
Summary 19 (Solomon Becomes King, 1 Kings 1-3)
Summary 20 (Solomon: from Success to Failure)
Summary 21 (Proverbs and a Song)
Summary 22 (Ecclesiastes)
Summary 23 (A Divided Kingdom Overview)
Summary 24 (Bad Alliances, Consequences, and Solutions)
Summary 25 (Introduction to the Prophets)
Summary 26 (The Judgment of Israel)
Summary 27 (Reforms Under Hezekiah)
Summary 28 (Decline in Judah)
Summary 29 (Isaiah's Messianic Message)
Summary 30 (Josiah's Reforms)
Summary 31 (Jeremiah's Message)
Summary 32 (The Last King's of Judah)
Summary 33 (Daniel's Message)
Summary 34 (Ezekiel's Message)
Summary 35 (Lament for Jerusalem)
Summary 36 (Hope for Restoration)
Summary 37 (Overview of Job)
Summary 38 (Returning from Captivity)
Summary 39 (Rebuilding the Temple)
Summary 40 (Esther)
Summary 41 (Ezra, Nehemiah, and Malachi)
Summary 42 (The Messiah is Born)
Summary 43 (Jesus' Early Work)
Summary 44 (Parables and Miracles)
Audio
Below you will find audio recordings of the classes that we have available. Again, all adult classes are going through the Chonological Daily Bible. A speaker's name indicates whose class it primarily is, though due to being out of town or other reasons, someone else may actually be doing the teaching.
| Date | Title | Speaker | Series | Service | Files | Play |
| --- | --- | --- | --- | --- | --- | --- |
| 10/11/17 | Oct 11 | Ken Kuykendall | Chronological Daily Bible | Wed Bible Study | | |
| 10/11/17 | Oct 11 | Nathan Johnson | Chronological Daily Bible | Women's Bible Study | | |
| 10/11/17 | Oct 11 | P Cavender | Chronological Daily Bible | Wed Bible Study | | |
| 10/04/17 | Oct 4 | Ken Kuykendall | Chronological Daily Bible | Wed Bible Study | | |
| 10/04/17 | Oct 4 | Nathan Johnson | Chronological Daily Bible | Wed Bible Study | | |
| 10/04/17 | Oct 4 | B Cavender | Chronological Daily Bible | Wed Bible Study | | |
| 10/01/17 | Oct 1 | Doy Moyer | Chronological Daily Bible | Sun Bible Study | | |
| 10/01/17 | Oct 1 | Nathan Johnson | Chronological Daily Bible | Sun Bible Study | | |
| 10/01/17 | Oct 1 | B Cavender | Chronological Daily Bible | Sun Bible Study | | |
| 09/24/17 | Sep 24 | Doy Moyer | Chronological Daily Bible | Sun Bible Study | | |
| 09/24/17 | Sep 24 | J Little | Chronological Daily Bible | Sun Bible Study | | |
| 09/24/17 | Sep 24 | B Cavender | Chronological Daily Bible | Sun Bible Study | | |
| 09/20/17 | Sep 20 | Doy Moyer | Chronological Daily Bible | Wed Bible Study | | |
| 09/20/17 | Sep 20 | Nathan Johnson | Chronological Daily Bible | Wed Bible Study | | |
| 09/20/17 | Sep 20 | P Cavender | Chronological Daily Bible | Wed Bible Study | | |
| 09/17/17 | Sep 17 | Doy Moyer | Chronological Daily Bible | Sun Bible Study | | |
| 09/17/17 | Sep 17 | Nathan Johnson | Chronological Daily Bible | Sun Bible Study | | |
| 09/17/17 | Sep 17 | P Cavender | Chronological Daily Bible | Sun Bible Study | | |
| 09/13/17 | Sep 13 | Doy Moyer | Chronological Daily Bible | Wed Bible Study | | |
| 09/13/17 | Sep 13 | Nathan Johnson | Chronological Daily Bible | Wed Bible Study | | |
| 09/13/17 | Sep 13 | P Cavender | Chronological Daily Bible | Wed Bible Study | | |
| 09/10/17 | Sep 10 | Doy Moyer | Chronological Daily Bible | Sun Bible Study | | |
| 09/10/17 | Sep 10 | Nathan Johnson | Chronological Daily Bible | Sun Bible Study | | |
| 09/10/17 | Sep 10 | B Cavender | Chronological Daily Bible | Sun Bible Study | | |
| 09/06/17 | Sep 6 | Doy Moyer | Chronological Daily Bible | Wed Bible Study | | |